"Your Corner" is exactly what you think it is - your stories, pictures, art, and pretty much everything else you can share with the rest.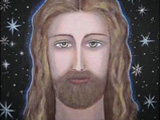 Nina Goncharova, from Siberia, sent us a quite unique story, which happened to her some time ago, and almost completely changed her life for the better. Some of our readers may believe it, some may not. But one thing everyone have to agree upon - miracles do happen.

The picture you see above is a real "Love" drawing by N. Goncharova.


In May 1991, I was enlightened by meeting… God inside me. This was a great experience in my life to have a real meeting with my real inner self and the Creator inside myself.
It happened in our Siberian flat where I lived with my son Art. I worked hard as a vice director of the professional college and the esthetic children "Starry» center in Novosibirsk. I was bringing up my son alone and had many tasks to be solved by myself.  One night, as I was going to bed, I suddenly had a thought: "What courage I should have within myself in order to live". At that very moment, I saw an unlimited sky with bright, shining large stars. Then, in the center of it, I saw a face. It was a handsome man's face very close to my eyes – just opposite.  His clear eyes looked into my soul with unlimited love I had never felt before.  We looked into each other's eyes for a few moments, but it felt like eternity. I realized that it was the face of God, though I did know that he had no faces but I also knew that he had many faces.
It is impossible to describe with human words the feeling of love, blessing, joy and calmness that embraced me. During one moment, I was another being; that meant I was totally myself.  I knew for sure that I have All That Is inside me, that I am always with Him, that He is me. I felt that I have never been alone, that I know my path and this path is eternal…
So, since that moment I know from within myself that every human being has a great treasure inside him. I know from within myself that we have an invisible sacred world inside us, and that it is time for this invisible world to become seen and evident. I know from within myself that we have unlimited divine power inside us and this power is life creating unconditional love.
I know from within myself that every human being is a creator. The only thing that keeps him asleep is his artificial way of life and disconnectedness with God living inside him. I know from within myself that the entire eternal Universe lives in us and we live in the unlimited Universe every moment of our life. I do know now, that we are here to awaken our bodies as divine tools for feeling the Universe and consciously creating a new quality the Holy life.
Since that moment in 1991, quite another period of my life started. Poems, painting, scenarios flowed like one huge steam. They were gleams of inspirations that seemed to be impossible to transfer. I have been baring this image deep inside me realizing that I and we all have always been safe and totally connected with the core of the Universe. To say more I realized that we are here on this planet to become enlightened cosmic co creators for changing and transforming the world. I felt myself totally happy and capable to spread the love I experienced during that enlightened meeting to all people.
At the same time my own life path showed up. I felt the woman's mission at the Mother of the World's epoch - to inspire, enlighten and unite the world.  The next step of my life started. I felt that I should install the model created by Education for Life movement into the world community. The other task was to find and connect planetary people from all over the world who consciously worked for creating the different collective streams of energy in order to help the humanity to really become one.  So, beginning with Himalaya "Sacred network of the planet» expedition in 1997, I visited 12 countries in different parts of the planet including the Holy Land with my deep feeling of the importance of conscious uniting people and capacity to transform the world with unconditional love and presence. 
I followed the stream of synchronizations happening in my live.  All the dreams I had for creating a planetary brotherhood were materialized. I deeply realized that in case we know what we want and if our dreams coincided with the Higher Will and we totally trust life and acted doing right the first steps, then the Universe created all circumstances for realizing the dreams. So, this was the way people and circumstances were attracted for me to visit different countries for fulfilling my mission to bring the energy from inside me and all of us for transformation and synchronization of collective consciousness.
By Nina Goncharova



Don't forget that you also have an opportunity to share something of your own with us, and the rest of the readers. Whether it's an interesting episode of your everyday life, some sort of art, glamorous photos, videos, bizarre – weird – breaking news, interesting interviews, your own written science fiction tale, a sad love story or even a poem – share with the rest & let yourself be known.
Editorial board reserves the right to publish your sent material, or skip it, based on our policies. When sending your material, please choose one of the following:
real life stories
,
own written story (fiction)
,
photo-video
,
other
. Also, please provide the full name we should credit the material for, and a short description of the material itself.
All of the materials are to be sent here:
[email protected]
Send them out, "Your Corner" is waiting!


/Today.Az/