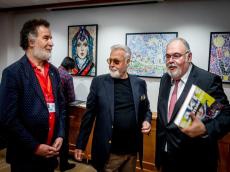 Azerbaijani artists have mesmerized art lovers with their artworks.
Sakit Mammadov, Arif Aziz, and Nargiz Guliyeva took part in the Thematic Meetings of Artists of the Turkic World timed to the 200th anniversary of the Hungarian poet Sándor Pet?fi, Azernews reports.
The project was co-organized by TURKSOY and the Hungarian Lakitelek Foundation, bringing together 11 artists from Azerbaijan, Kazakhstan, Kyrgyzstan, Uzbekistan, Turkey, and Turkmenistan.
During the 10-day work at the Lakitelek creative camp, the artists created canvases inspired by the works of the Hungarian poet Sándor Pet?fi. Moreover, the artists had the opportunity to become better acquainted with Hungarian culture, art and literature.
The event was attended by Deputy Chairman of the National Assembly of Hungary Lezsák Sándor, the Azerbaijani Ambassador to Azerbaijan Tahir Tagizade, heads of diplomatic missions of other countries participating in the exhibition.