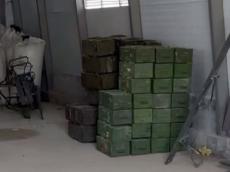 Several abandoned objects in the Garabagh economic region, which have been used as factories for a long time, were checked, Azernews reports, citing the Azerbaijani Defense Ministry.
During the inspection, a large amount of military equipment, various small arms, boxes of mortars, and other military equipment was found in the area of the civilian factories as well as in their storage facilities.
Following localized anti-terrorist activities carried out by the Azerbaijani Armed Forces, it was established that a number of civilian facilities in the Garabagh economic region had been used for military purposes for a long period of time.