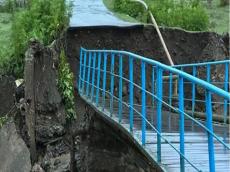 40 villages of Astara district are disconnected from the district centre. This was reported by the executive authorities of Astara district, Azernews reports.
It was noted that the situation is becoming increasingly critical. The dam of the Astara small hydroelectric power plant (SHPP), located in the Bandasar residential area of Zungyulesh village, is in danger of collapse. At present, water is overflowing from the top of the dam at a height of about 2 metres.
A reinforced concrete bridge 25 metres long and 10 metres wide located in the village of Vago on the 5th km of the road Pensar-Takhtanakaran-Toradi collapsed, 24 villages with a population of 9400 in the administrative district of Siyaku village, 2850 villages in the administrative district of Askhanakaran village were destroyed, communication with 10 villages with a population of 15,000, 6 villages with a population of 2,750 and 40 villages with a total population of 15,000 of the representative office of the rural territorial administrative district of Hamosham were cut off.
Also in the village of Siyakesh, with a population of 700, an iron bridge 10 metres long and 4 metres wide over the Pensarchay River was demolished by flooding.
At the 20th kilometre of the Takhtanakaran-Toradi road, a landslide blocked the road for 30 metres. Landslides occurred on several sections of the Kijaba-Palikesh road, starting from the 11th kilometre, and the road was blocked.
The Yerchivan River flooded about 200 houses and yards in the area of the settlement.
In Shiyekaran village, two suspension bridges 42 metres long and 54 metres long over the Pensarchay River were blown up as a result of flooding. Relevant agencies were informed about the natural phenomenon. The appeals received by the Emergency Commission have been registered and necessary measures have been taken.
The disconnection of 40 villages from the district centre has caused a major disruption in the daily lives of the residents. The lack of access to basic amenities such as water, electricity, and medical services has made the situation worse. The local authorities are working to restore the connection and provide necessary assistance to the affected villages.