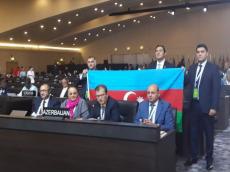 The Hyrkan forests of Azerbaijan have been included in the UNESCO World Heritage List. It is worth noting that Hyrkan forests are the first natural area of ??Azerbaijan to be included in the UNESCO World Heritage List, Azernews reports, citing t Firuddin Aliyev, head of the Biological Diversity Protection Service.
He noted that taking into account the characteristics of the Hyrkan forests, which are rich in relict species and have a very interesting landscape, it was proposed to include this unique area in the UNESCO World Heritage List, for this purpose, the transnational "Hyrkan forests" nomination was prepared within the Hyrkan National Park and it will be included in 2022. It was presented to the World Heritage Committee of UNESCO at the end of the year.
"The decision to include the Hyrkan forests of Azerbaijan in the UNESCO World Heritage List was made at the 45th session of the UNESCO World Heritage Committee currently in Riyadh, Saudi Arabia.
The Hyrkan forests are a unique forest massif covering the south-western and southern shores of the Caspian Sea and are one of the rare ecosystems on our planet that have preserved their uniqueness," said the service official.
Firuddin Aliyev added that the protection of such a natural monument is a successful continuation of the long-term environmental policy of Azerbaijan.