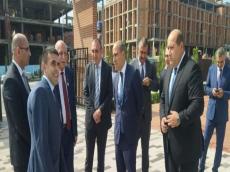 A new academic year has started at Mirza Ulugbey Full Secondary School No.1 in Fuzuli town. The ceremony was also attended by Minister of Science and Education Emin Amrullayev, Azernews reports.
In addition, special representative of the President of the Republic of Azerbaijan Emin Huseynov, Chief of Staff of the Ministry of Science and Education Matin Kerimli, Advisor to the Minister of Science and Education Tural Ayvazli, Director of the General and Public Relations Department of the Ministry of Education Elnur Aliyev, Director of the Public Relations Sector Jasarat Valehov, other employees of the Ministry, management and employees of the Garabagh Regional Department of Education, teachers, public representatives attended the event.
It should be noted that Fuzuli City Secondary School No.1 named after Mirza Ulugbey is designed for 960 pupils. The school was built by the President of Uzbekistan Shavkat Mirziyoyev as a gift on behalf of the Uzbek people. In the new academic year, the school has 11 classes of 160 pupils each, and 15 teachers will teach here.
The two-story building of the school has 40 classrooms with 24 seats, 6 laboratories, 2 computer labs, 5 functional classrooms, an assembly hall with 500 seats, a sports hall, a canteen with 320 seats, and a library.
The 3-hectare school territory includes a football field, 8 conference halls, a children's playground, a power supply building, its own boiler house, a swimming pool with water, and other necessary auxiliary buildings.