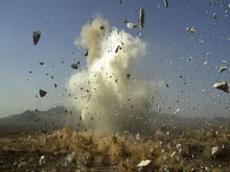 On September 10, at around 1:30 p.m., a military serviceman of the Azerbaijan Army Eminov Khayyam son of Mahal was injured by an anti-personnel mine planted by the intelligence-sabotage group of illegal Armenian armed groups for the purpose of sabotage on the way to the security of our units in the territory of Aghdam district, Azernews reports, citing the Azerbaijan Defence Ministry
After providing first aid, our wounded serviceman was immediately evacuated to a military medical facility. There is no danger to his life.
At present, the demining work is being carried out by the engineering-fortification units.
Recently, remnants of the Armenian armed groups in the Garabagh economic region and illegal Armenian armed formations are observed massively laying of new mines in our territories, thus continuing the policy of mine terrorism against Azerbaijan.