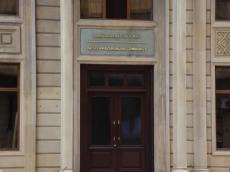 The Western Azerbaijan Community called on the international community to strongly condemn the "election" provocation in the Karabakh region of Azerbaijan.
"Recently, Armenia, which has concentrated manpower and military equipment near the conventional border with Azerbaijan, resorted to another provocation. The holding of a so-called "presidential elections" by the scum of the illegal regime created and still supported by Armenia in the sovereign territories of Azerbaijan makes the situation in the region even more tense.
The Western Azerbaijan Community calls on the international community to strongly condemn this "election" provocation.
In this regard, the Prime Minister of Armenia's phone calls to world leaders and the statement that "we are ready for urgent negotiations with Azerbaijan" are insincere. If Nikol Pashinyan is really interested in peace, then the remnants of the Armenian armed forces should be removed from the territory of Azerbaijan, illegal armed groups should be disarmed, and contacts should be started with the Western Azerbaijani community regarding their return," the community said.