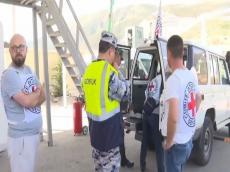 Armenian minority living in Azerbaijan's Garabagh freely crossed the Lachin State Border checkpoint, Azernews reports.
On nine vehicles belonging to the International Committee of the Red Cross (ICRC), 30 people crossed the state border checkpoint of Azerbaijan.
This once again testifies to the absence of any obstacles and difficulties in the passage of the Armenian residents of the Garabagh economic region of Azerbaijan through the Lachin border checkpoint and serves as another proof that Armenia's statements about the alleged "blockade" of the Lachin road by Azerbaijan are lies and slander.