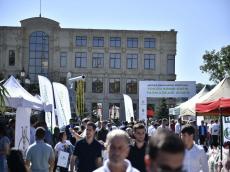 Another Festival of Agrarian Innovations, organised by the Centre for Agrarian Innovations of the Ministry of Agriculture, was held in Qusar, Azernews reports, citing the Ministry of Agriculture.
According to the information, the 4th exhibition and sale of seeds was organised within the festival. Farmers and seed producers from Guba, Qusar, Khachmaz, Siyazan, Shabran and Khizi districts took part in the festival.
Agrarian Innovation Centre, Agrarian Services Agency, State Seed Fund, and Seed Growers Association of Azerbaijan jointly organised a seed exhibition-fair with presentations on the correct choice of seeds taking into account local conditions and soil peculiarities, the importance of agro-technical care in increasing yields and the importance of giving preference to certified seeds as planting material. As part of the festival, farmers involved in seed production were trained by specialists from the Research Institute of Vegetable Production.
Anar Jafarov, director of the Centre for Agrarian Innovations, said that the main objective of regularly held Agrarian Innovation Festivals in the regions is to provide access to agricultural products and technologies for farmers living in the regions. A. Jafarov added that about 30 seed producers and more than 60 companies are presenting their products at today's festival. According to the tradition of the Festival of Agrarian Innovations, the event included a demonstration of machinery and technologies with the participation of more than 60 domestic and foreign companies specialising in the agrarian sphere.
During the festival, the participants were provided with detailed information about the activities and services of the Ministry of Agriculture and other state enterprises, as well as information materials. The next festival will be held on 8 September in Aghjabadi.