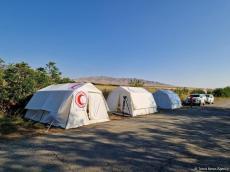 A food convoy sent from Baku for the Armenian residents of Garabagh has been on the Aghdam-Khankendi road for the fourth day, Azernews reports, citing Trend.
Two trucks with 40 tonnes of flour are waiting in front of the Russian peacekeepers' post on the Aghdam-Khankendi road. Employees and volunteers of the Azerbaijan Red Crescent Society spent the night in tents set up on the territory.
It should be noted that on 29 August the Azerbaijani Red Crescent Society organized the delivery of food to meet the needs of people of Armenian origin living in the Garabagh economic region of Azerbaijan.
Armenia and the criminal separatist regime it created are preventing the opening of the Aghdam-Khankendi road for the delivery of the cargo.
Accompanied by Paris Mayor Anne Hidalgo and Strasbourg Mayor Zhanna Barseghyan, 10 vehicles with "humanitarian cargo" arrived from Yerevan at the border with Azerbaijan. The State Border Service servicemen of Azerbaijan blocked at the Lachin border checkpoint on August 30 the entry of the "aid convoy" sent by Paris for the Armenian-origin residents of Garabagh.
Baku's decision suits the fact that there is no humanitarian crisis in any of the Azerbaijan regions; in this regard, there were no appeals to any country to send a kind of aid.
To prevent the illegal transfer of manpower, ammunition, mines, as well as other military equipment from Armenia to the Armenian armed formations on the territory of Azerbaijan, Baku established on April 23 a border checkpoint at the entrance to the Lachin road on the border with Armenia.
The move helped Baku prevent violation of the November 10 trilateral statement by Armenia, as well as take its entire frontlines under complete control.