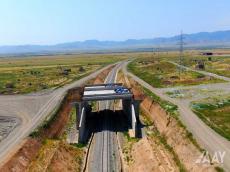 The 64.8 km long and 15-meter wide road is being constructed with 4 lanes. The width of the shoulders is 3.75 meters in each direction, the width of the dividing strip is 4 meters, and the width of the earth bed is 26.5 meters, Azernews reports, citing AAYDA.
At present, the excavation works on the I technical category road include the removal of unsuitable soil, widening of the roadbed, construction of a new 26.5-meter wide earth bed, road base, 380-meter long retaining wall, culverts of various sizes to ensure water transfer, water crossings and, if necessary, construction of emergency passages for underground communications and communication lines.
The project has completed the construction of 9 emergency crossings and 17 culverts on the road section km 0-32.4 km. In addition, 68.55 percent of vegetation layer removal, 61.52 percent of earthworks, and 32.60 percent of earthbed construction were completed. Construction of 8 rectangular and 17 round culverts, one transport, and one pedestrian crossing has also been completed. Construction works on 3 bridges and other sections are ongoing. The physical progress of the 0-32.4 km section of the project is 16.24%.
On the road section 32.4-64.8 km, excavation works have been completed and construction of the leveling layer and bottom layer is underway. In this part of the project, 4 crossings 11 communication pipes, and 25 culverts of various diameters have been constructed.
Construction of bridge piers built on this section is nearing completion. In this section, 56 percent of earthworks, 50 percent of artificial structures, and 11.2 percent of road pavement have been completed, and the total volume of construction works is 22 percent.
Construction of 5 road bridges on 1, 6, 12, 37, and 63 km road sections is underway. Construction of piles, concreting, and supports in the bridges continues.
Construction works are carried out in accordance with the requirements of "Construction norms and rules". To complete the construction according to the schedule, the necessary number of forces has been deployed at the section.
The Aghdam-Fuzuli motorway, which is a continuation of the Barda-Aghdam motorway, passes through the Aghdam, Aghjabadi, and Fuzuli districts.
The construction of the road will provide comfortable passage from Barda to Aghdam and Fuzuli, as well as in the opposite direction, and will have a positive impact on the socio-economic development along the road.