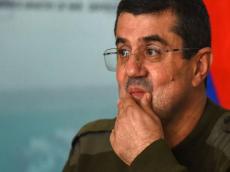 Facebook has suspended the leader of separatists in Garabagh Arayik Harutyunyan's account as a result of a continuous campaign of complaints filed by Azerbaijan, Azernews reports.
Harutyunyan's account was actively targeted with complaints for many months which had gradually led to many restrictions, including the artificial drop in visibility of posts and ban on certain functions. And as a result of the recent complaints the page became fully inaccessible on August 26.
Harutyunyan's account had 459,000 followers and played an important role in ensuring transparency, his office added.