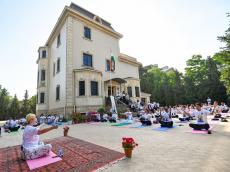 The Indian Embassy in Baku is organizing a lineup of yoga events in numerous Azerbaijani cities as part of the 2023 International Day of Yoga celebrations. These events aim to improve physical and mental health, promote unity and harmony, and further strengthen the cultural ties between India and Azerbaijan.
The Indian Embassy is leading these yoga events across various picturesque locations in Azerbaijan. These include the Republican Velodrome, Baku Boulevard, Gobustan, Ateshgah, Shamakhi, Yanardag, Gabala, Shabran Wellbeing Resort, Icherisheher, and the Park of Heydar Aliyev Center.
All are welcome to these events, both seasoned yoga enthusiasts and beginners. Participants will have the chance to partake in yoga sessions led by expert instructors from The Art of Living, Yoga Shahi Studio, and the Classical Yoga School. Each session will offer a mix of yoga poses, breathing exercises, and meditation techniques for a well-rounded and rejuvenating experience.
June 21 was recognized globally as the International Day of Yoga starting from 2015, following a unanimous decision by the United Nations, a proposal that was initiated by India. The selected date is the longest day of the year in the Northern Hemisphere, a fact that carries unique significance in many cultures around the world. Yoga, an ancient practice with roots in Indian philosophy, provides a holistic approach to health and wellness. It is scientifically proven to improve flexibility, reduce stress, enhance mental clarity, and promote physical fitness. It's also known for its benefits in boosting immunity, improving focus, and fostering a sense of inner peace.
To get involved and experience the transformative power of yoga firsthand, attendees are advised to bring yoga mats and wear comfortable clothing.
For more details on these events or to register your participation, visit the Indian Embassy's Facebook page at www.facebook.com/indiainazerbaijan, follow their Twitter handle @indembassybaku, or get in touch directly at +994 50 291 7987.
Join us in celebrating the International Day of Yoga and embark on a journey of self-discovery, inner harmony, and holistic well-being.