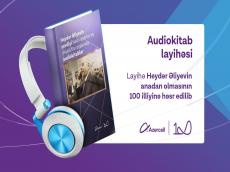 On the occasion of the 100th anniversary of National Leader Heydar Aliyev, the country's leading mobile operator is making another contribution to the popularization of our cultural heritage through modern digital platforms, Azernews reports.
"Writing and creating books, as well as publishing them, is one of our main tasks. We must take all possible measures for this. As the President of the Republic, I consider this one of my main duties,"- National Leader Heydar Aliyev.
Guided by the position of National Leader Heydar Aliyev, Azercell Telecom LLC presents the Audiobook project, which includes the favorite books of the national leader, who played an exceptional role in protecting and popularizing the cultural heritage of our country.
As part of this year's project, Azercell will place more than 50 works by prominent writers and poets of Azerbaijan on the Bookmate international platform in audio book, e-book and audio player formats.
In order to pass on our national literature to future generations and increase the international readership, the mobile operator also provides the reproduction of works in Turkish, English and Russian. The content will also be presented to the attention of viewers through the official YouTube channel of Azercell.
The project includes various stories, works, poems and plays by Jalil Mammadguluzadeh, Hussein Javid, Samad Vurgun and Muhammadhussein Shahriyar. These include Heydar Aliyev's favorite play "The Dead" by Jalil Mammadguluzade, Samad Vurgun's poem "Azerbaijan", Muhammadhussein Shahriyar's "Salam, Heydar Baba", Hussein Javid's play "The Deer". It should be noted that a digital comic book and a short animated film are being prepared based on Jalil Mammadguluzade's play "The Dead".
Azercell has also digitized the Molla Nasreddin magazine, which is one of the most valuable examples of Azerbaijan's national press. 100 issues of the magazine in the Azerbaijani alphabet have already been prepared in the format of an e-book and audiobook and uploaded to the Bookmate application.
Once again noted that this year the Audiobook project is being implemented as part of a series of Azercell events dedicated to the blessed memory of national leader Heydar Aliyev. To date, the digital library project has provided readers with audio and electronic content consisting of the ghazals of Imadedin Nasimi, more than 100 works by Nizami Ganjavi, 10 offshoots of the Epic of Koroghlu, (Koroghlu Destani) various scientific works related to the history of Karabakh, as well as books by Karabakh writers.