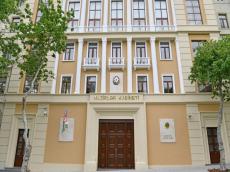 Azerbaijan registered 12 new COVID-19 cases, in the past 24 hours, the Operational Headquarters under the Cabinet of Ministers reported on January 23.
Two patients have recovered and no patients have died in the reported period.
So far, 827,679 COVID-19 cases have been registered in the country. Some 817,316 patients have recovered, and 10,068 people have died. Currently, 295 people are under treatment in special hospitals.
Over the past day, 896 tests were conducted in Azerbaijan to reveal coronavirus cases.
In general, 7,472,527 tests have been conducted in Azerbaijan so far.
No one was vaccinated against COVID-19 in Azerbaijan over the past 24 hours.
Around 13,939,902 COVID-19 vaccines have been provided to Azerbaijani citizens. Some 5,401,105 citizens received the first vaccine dose,4,876,635 people – the second dose, 3,397,071 people – the third dose.
Nearly 265,091 citizens were vaccinated with a booster dose after a positive test result for COVID-19.