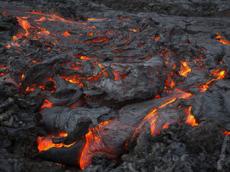 Volcano eruption has occured in Azerbaijan. The mentioned natural event has been seen in Gobu settlement terrritory,
Day.Az
informs citing to
Aspress.
According to the settlement residents, the volcano has became active at night: "It started to erupt near the houses in settlement".
Residents added that the last volcano eructation in Gobu happened 40 years ago. "Flame began to spark at night. Residents are very worried. Flame is keeping to incrase", - they said.