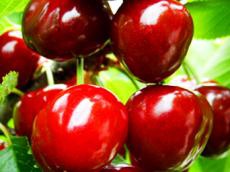 By AzerNews
Summer in Azerbaijan is the perfect time to restore your health and accumulate vitamins for the cold months ahead. The country largely provides itself with fruits, essential source of vitamins and various nutrients.
Traditionally, people in Azerbaijan start the season with sour cherries and wild cherries in June. Then they shift to apricot and peaches in July and watermelon, melon and grapes in August.
Chairman of the Sustainable Development Research Center Nariman Agayev believes that Azerbaijan is self-sufficient in fruits production by 60-70 percent.
"Do not forget about exotic fruits that we cannot produce - we have to import them. As for seasonal fruits, we provide ourselves with them in all seasons except for winter. We import fruits from South Africa, Argentina, Brazil and North-African countries through transit," he said to a local press.
He also noted that there are no bans on import of fruits from any country to Azerbaijan.
However, in summertime, Azerbaijanis prefer local fruits and the market is ready to meet their demands. This year there are plenty of different fruits at the market stalls.
"Last year, the amount of cherries and apricots in the market was lower due to heavy rains in April and May, and the prices were higher. Today, the prices of fruits are lower," Agayev said.
Low price on one hand and the delicious taste on the other, stimulate people to buy more fruits in these hot days. No other food is so attractive during this season.
Nowadays, there are different kinds of fruits on the stalls. In the past, people dare to allay thirst with watermelons only in August, now the situation has changed.
Agayev also referred to the climate shift saying: "Previously good watermelon appeared on the market in August but now they can be found in July. That means that the qualitative produce appeared on the market a month earlier, in contrast to previous years."
Notwithstanding some early appearance of fruits this year, many people are still suspicious about those rareripe yields.
Anyhow, now the market can offer all those fruits together. This increases the options of the fruit-lovers.
Cherry is one of the very low calorie fruits that are rich in terms of nutrients, vitamins, and minerals. Consumption of cherry has potential health effects against chronic pain. Moreover, studies suggest that anti-oxidant compounds in cherry help human body to fight against cancers, aging, neurological diseases, and pre-diabetes conditions.
Other beloved summer fruits, apricots and peaches are full of beta-carotene, fiber, vitamin C, antioxidants.
Apricot is a good source of dietary fiber, which is helpful for most people in supporting digestive health and control blood cholesterol levels.
As for peach, this appetizing fruit is packed with antioxidant vitamins, vitamin B that support metabolism and contain vitamin A for your eyes.
Delicious Azerbaijani watermelons, melons and grapes are top fruits of the last summer month.
Juicy watermelon is more than 90 percent water that is a perfect solution for hot summer day, which has vitamins A and C, as well as a modest amount of potassium. Watermelon is also among the best dietary sources of lycopene antioxidant.
Sweet melons are also very healthy fruit that contains a wide variety of antioxidant and anti-inflammatory phytonutrients, vitamin A and vitamin C.
One of the outstanding source of phytonutrients, especially phenols and polyphenols, vitamin K and copper as well as vitamin B2, grapes provide people with strong antioxidant support, anti inflammatory, cardiovascular, blood sugar, anti aging, anti microbial and even anti cancer benefits.
All of these advantages of fruits and their sweet and refreshing tastes on acceptable price is another profit of summer in Azerbaijan.
This summer, the abundance is expected to continue until the end of the season, thus the opportunity to replenish the body's supply of vitamin should not be missed.