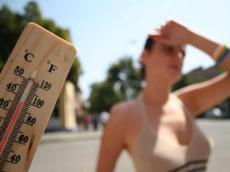 By AzerNews

In the cold winter days we all usually miss hot summer sunrays, walks and trips to the beach, but while sweating and breathing hard under the hot sun, we come to realize that the heat is a real threat to our bodies.
If one does not comply the basic rules of safety, exhausting heat can cause several troubles. It is known that the summer heat is a serious test for the human body, and the most affected are children, the elderly, and people with chronic diseases of the cardiovascular system, gastrointestinal tract, and so on. Moreover, the risk of getting solar and thermal shock increases in a hot weather.
As everyone knows, the weather is highly variable in Baku. So, usually, an unbearable heat comes after the windy days, which were observed in the last three days in Azerbaijan's capital. However, one should not relax vigilance because the hot days are ahead. To be prepared for the heat, one should know a few basic rules.

Out-Of-Doors
One should limit staying outdoors, especially between 11 am to 4 pm. If this is not possible, then choose the dark side of the street and be sure to cover your head with hat or use an umbrella, and use special water-based sunscreen cosmetics, reflecting the ultraviolet radiation and not preventing skin breathing.
Have this point in mind: Do not leave the house without a bottle of water. Take a little sips, so that you don't get thirsty. Do not eat street foods, as meat and dairy products rot rapidly in hot weather. If you are taking medications for a long time, consult your doctor so that he can correct your regimen.

What about food and drink?
One should know that due to increased perspiration, the body loses its moisture and water balance. Therefore, the doctors recommend drinking at least 3-3,5 liters per day. Do not drink sugary sodas and only eat ice cream to cool yourself down, as increased glucose will only exacerbate the thirst. Doctors recommend drinking beverages at room temperature - it is easy to get sick angina in the heat.
Mineral medicinal water increases the load on the heart, it is not worth drinking. Your right choice are the boiled water with lemon juice, freshly squeezed juices and carbonated alkaline bottled water. Useful dairy products are yogurt and fermented baked milk. Moreover, one should not drink coffee and black tea, though green tea perfectly cools off, regulating heat exchange. Be careful with alcohol, as the body is especially sensitive to it in such weather; do not forget that beer contains alcohol too.
As about the food, the story is slightly different. Generally, follow the rule - it is better not to eat enough than overeating. Thus, one should not eat smoked, fried and fatty foods and should decrease the amount of their daily meat and stop eating honey. Water-containing fruits and vegetables such as watermelon, cucumbers, tomatoes will be very useful, as they contain additional trace elements and vitamins.
Clothing and Shoes
Almost 50 percent on your comfort depends on your choice of clothing in the heat. First of all, you need to prioritize the composition of materials, given their hygroscopicity, heat transfer and air permeability. Natural fine fabrics as silk, linen and cotton are beyond comparison in summer. One should not wear tight-fitting clothing - even if it is made ??of thin material because it reduces the heat transfer. Casual clothing of light colors will be the best choice in hot summer days. If it is possible for you, exclude ties, belts, corsets and give your body the freedom to move easily.
Use wide-brimmed hat of straw or thin fabric, baseball cap of lightweight fabric with mesh elements, scarf or shawl and pick up what suits your better. One should remember that the headgear should not be tight, otherwise it will create a "greenhouse" effect. So lighter tones and thin natural fabric will be the best choice.
One of the main points to have in mind is to choose sunglasses correctly, as poor-quality sunglasses will not protect your eyes, but hurt them.
Do not get involved in jewellery of metal and stone - these materials are rapidly heated by the sun and aggravate overheating. Glass decorations become dangerous under the sun, as they focus the sunrays and this can cause burns.
Shoes should only be made ??of leather; narrow shoes, laces sticking into the skin and high heel are not allowed in the heat, as circulation of blood would be disturbed and swelling would appear in your body.
These simple rules will allow you not only to escape from the unpleasant consequences of the heat, but even enjoy all the pleasures of summer.