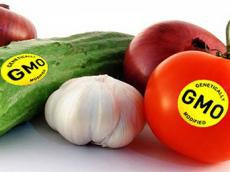 By AzerNews
People eat more fruits and vegetables in summer to keep ready their bodies with necessary vitamins for winter. But what are the main ingredients of these foods? Are they useful or conversely harmful to our health? Are these products organic?
Today, almost anyone knows something about GMOs. Housewives can distinguish organic tomato from that of GMO. Sometimes you think by yourself that you have bought the best tomato but to see if you were right or not, just cut the tomato in half. You many see that inside is like a wood. This is the first sign of GMO. Even so, most of us do not distinguish such a difference. In Azerbaijan, just a few people think about synthetic foods and their effects on our body.

What is the difference between GMO (Genetically Modified Organism) and Organic food?
During cultivation of vegetables, fruits and products with GMOs special bacterium's genes are injected to make them resistant to vermin. The genes are very harmful to the human body. Numerous experiments on rats fed with GMO products, show that transgenic foods lead to mutations, disease and infertility in the second generation. Organic foods are those products manufactured without the use of synthetic pesticides, synthetic food additives and fertilizers. Practically, these are the products which we used 20-30 years ago.
Why do most people prefer products with GMOs?
GMO products give higher yield and require less work, that is why they are cheaper than organic products and many people prefer them knowing nothing about their harmful effects on body. Many of us tempt to buy the fruits and vegetables with nice appearance. But do you know that namely these fruits which look so attractive are GMP? In our family, we prefer to buy fruits with worm inside them. Presence of apple grubs in an apple is probably a good sign because worms do not eat every meat.
More and more people from Europe and Asia, America and Australia are joining to the system of organic farming. U.S. First Lady, Michelle Obama, cultivates organic vegetables together with her children near the White House. An organic snail farm was also created in France.
GMO situation in Azerbaijan
Although Azerbaijan has joined World Environmental Conventions, GMOs are widely used in the country, and still worse, no product has "NON-GMO" sticker in local stores.
Recently, a baby food in Turkey was analyzed and scientists found GMOs among its ingredients. Turkish media reported that monitoring in Bursa found GMO in milk-wheat mixture for children called Milupa Aptamil.
Baby food under this brand can also be found in pharmacies in Azerbaijan.
However, Spokesman for the State Committee for Standardization, Metrology and Patents, Fazil Talibov assured that food analysis, including baby foods in our country showed no GMOs. "Import of products with GMOs into our country is prohibited," he said.
Earlier, Genetic Resources Institute confirmed that there is still no exact data about genetically modified plants in the country. However, works are underway in this direction.
Samples taken from a number of plants across certain parts of Azerbaijan showed no genetic changes to any of the samples in 2013, according to the official data. There is also no information on using GMOs in commercial plants breeding, such as cotton, tobacco, tea, and potato planting.
But we are more fortunate than people who live in America as the country is leading both on the production and consumption of GMOs. So, up to 80% of food products in the U.S. contain GMOs. We just hope that some events will be held on this issue to raise public awareness about the issue.
In any case, this is the customers themselves who should be careful about what they eat because the future generation can be in danger due to bad nutrition.