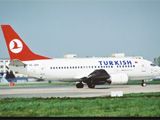 Turkish Airlines has reported a net loss of 332.3 million Turkish Liras in the first quarter, exceeding estimates.
The loss compared with a net income of 119.6 million liras in the same period of 2010. Turkish Airlines said in a statement to the Istanbul Stock Exchange after the market closed Thursday. The company was expected to report a loss of 138.5 million liras, according to the average of four analysts estimates compiled by Bloomberg.
According to the company statement, Turkish Airlines increased its turnover in the first quarter at 27 percent to 2.1 billion Turkish Liras, while increasing its end-term cash by 53 percent to 902 million Turkish Airlines.
The written statement read that the sudden disruption of global aviation tourism due to the unrest in the Middle East as well as the massive earthquake in Japan had negative impacts of Turkish Airlines in terms of direct passengers. The Middle East crisis increased the fuel costs from $850 per ton to $1,050 per ton.
Based in Istanbul, Turkish Airlines is one of the fastest growing airline companies in the world. It was founded in 1933, with a fleet of five airplanes. The airliner made its first domestic flight the same year and the first international flight in 1947.
With direct flights to 137 international and 41 domestic destinations as of March 2011, Turkish Airlines is a Star Alliance member and carries approximately 25 million passengers a year.
/Hurriyet Daily News/