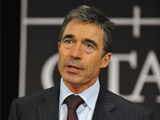 The security questions in South Caucasus are very important for NATO, Secretary General of the organization said.
Anders Fogh Rasmussen, who is visiting the US capital, specifically underscored the frozen conflicts as a potential threat on Caucasus security.
He said, NATO and its allies, as well as US and Russia, have worked hard to create stability and peace in the region.
"The only way to meet the threats, and to defeat them, is through the broadest possible cooperation between nations and organizations", Mr. Rasmussen stressed adding, "We now have a great opportunity to build security not only in Europe, but across the entire Euro-Atlantic area, as well as Caucasus. The US can be a major driver behind that process too".
Within the visit, Secretary General held meetings in several US Departments, including the Pentagon, and delivered a speech at the John Hopkins University, where he explained the "New Security Challenges, New NATO" policy to the analysts on South Caucasus and Central Asia regions.
Mr. Rasmussen also has made it his agenda to produce a strong European commitment to necessary defense investments.
"We do want to cooperate with Russia... We do share the security concerns with Russia. Over 30 countries in the world have missile defense and they can also target Russia's territory. And we need cooperation to protect all of territories. Together there might be a solution where all of our territories will be secured and people of Russia too. NATO and Russia can build missile defense together rather than fighting each other".
Speaking about the regional disagreements of principle on issues, such as Georgia, Mr. Rasmussen mentioned that NATO insists on full respect for Georgia's sovereignty and territorial integrity. "We call on Russia to live up to her international obligations in that respect. We must not shy away from discussing these disagreements".
"We call on Russia to fulfill fully her international obligations, and we have the best dialog with Russia not only over Georgia issue, over the whole region", he added
With regard to NATO's open door policy towards its neighbors, Secretary General mentioned that it is not against other countries, especially Russia. "We do not compromise our basic values", he added.
/
APA
/