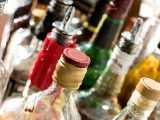 Consumption of alcoholic beverages in Turkey was up 1.5 percent in 2010 when compared to the previous year.
According to figures of the Tobacco and Alcohol Market Regulatory Authority (TAPDK), Turks consumed 1,047,718,000 liters of alcoholic beverages in 2010.
While the consumption of beer and whisky dropped in Turkey in 2010, Turks drank 1.7 million liters more raki compared to 2009.
In 2010, the sale of wine went up by 13.3 million liters, vodka by 1.4 million liters and gin by 236,700 liters. On average, Turks consumed 2,870,000 liters of alcohol per day in 2010.
Raki consumed in 2010 was the highest in the past four years.
/World Bulletin/