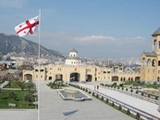 Thirteen Turkish citizens who were arrested in Georgia were released Sunday following a series of diplomatic initiatives by Ankara, Turkish officials said.
"The Georgian prime minister signed the papers required to release Turkish nationals. They have been released from Rustavi Prison and have been given their documents to travel to Turkey. Some of them have already gone back to Turkey," one official said.
The 13 Turks had been arrested over a period of months on different accusations, sources said. Foreign Minister Ahmet Davutoğlu held a couple of phone conversations with his Georgian counterpart in order to free the Turkish nationals.
Yusuf Kılıç, Özgür Namlı, Zeynel Ali Çetinkaya, Kemal Öncer, Hayati Naldemirci, Kemal Aydın, Hasan Avcı, Hamza Kaputoğlu, Musa Alev, Yusuf Yalçın, Sabri Gaz and Sinan Çiftçi were among the Turkish citizens who were released.
/Hurriyet Daily News/