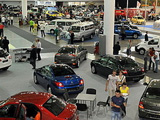 Turkey's car and light commercial vehicle market reached a new peak in the January-April period, figures released on Thursday showed.
According to data from the Automotive Distributors Association, or ODD, total sales in the first four months of the year rose by 64 percent on an annual basis, from 157,982 units to 259,182.
In January, the market grew by 123 percent, while growth in February, March and April stood at 88 percent, 51 percent and 41.1 percent, respectively.
In the four months of the year, car sales surged by 70.3 percent to 176,730 units, according to ODD data. In January alone, the passenger car market grew by 137 percent. Annual growth decreased to 88.9 percent in February, to 59.1 percent in March and to 47.3 percent in April.
The light commercial vehicle market expanded by 52 percent, reaching sales of 82,452 units in the first four months. A similar monthly decline between January and February was observed in the sales of these vehicles as well.
The declines may be interpreted as an indication that credit growth in Turkey is slowing down, as consumers face higher interest rates in car loans.
In contrast, diesel car sales doubled compared to the first four months of last year. Around 60 percent of all car sales in the period were comprised of diesel cars, compared to 51 percent last year.
/Hurriyet Daily News/