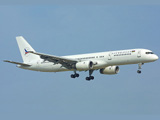 The number of direct flights from Ankara to international destinations has increased from 20 to 24, Ankara Chamber of Commerce Chairman Nurettin Özdebir said Thursday.
"Direct flights to Jeddah and Medina as well as Batum and London were also included. The number of direct flights from Ankara to international destinations has increased from 20 to 24," Özdebir said at a press conference.
The new airport in the capital has made Ankara a more accessible destination, the chairman said, adding the chamber was working with other relevant parties to prepare an action plan on further easing access to the city.
"We agreed that Ankara should be an international line and a center of connections within Anatolia and beyond Anatolia," Özdebir said, adding that Turkish airliners Turkish Airlines, or THY, and Anadolu Jet already had started developing strategies in this respect.
There has been a 21 percent increase in international flights from Ankara, he said.
THY General Director Temel Kotil said Anadolu Jet, a division of the company established in 2008, carried one third of all of THY's domestic passengers as of last year.
The growth in domestic flights was 38 percent between January and April, a period that also saw a 250 percent jump in international flights, Kotil said.
Metro construction to be transferred
The ongoing metro construction work in the capital will meanwhile be handed over to the Transportation Ministry in a ceremony May 7. Transportation Minister Habib Soluk and Ankara Metropolitan Municipality Mayor Melih Gökçek are both expected to attend.
The Sincan-Batıkent, Tandoğan-Keçiören and Kızılay-Çayyolu metro lines had previously been handed over to the ministry, as had the electro-mechanic tasks of all lines, through four different protocols.
The metro lines were given a budget of 250 million Turkish Liras by Prime Minister Recep Tayyip Erdoğan after the protocols were approved by the Cabinet.
In light of these developments, the municipality will hand over the current metro construction work to the Transportation Ministry.
/Hurriyet Daily News/