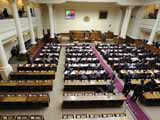 According to Georgian MP Dimitri Lordkipanidze, parliamentary opposition representatives are ready to pay to test their hair for drugs.
"To satisfy the public interest we are ready to conduct a research and set an example to executive and judicial authorities," he said and mentioned the test of hair costs no more than GEL 150 [USD 90].
Parliamentarians believe a system, legalizing such tests conducted periodically and selectively, must be established.
Previous messages said that all the governmental officials would be checked in the aforesaid way upon the order of the President, who called the way "the least humiliating."
The Georgian leader mentioned the new method allows detecting a drug consumer even if the person has abstained from taking drugs for recent months.
He added that over 6,000 were arrested in Georgia for spreading drugs, and therefore everything must be done to make drug abuse inadmissible.
/Georgia Times/