On Jan. 29, during Moscow Mayor Yuri Luzhkov's visit to Yerevan, the Yerevan Municipality and Moscow Government signed agreement on trade, economic, scientific, technical and humanitarian cooperation.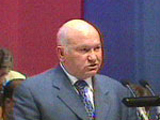 The signing ceremony of cooperation programs between the Center community of Yerevan and Central district of Moscow followed a meeting between Yerevan Mayor Gagik Beglaryan and his Moscow counterpart.
Yuri Luzhkov stated that the sides will study the capitals' experience to resolve social problems.
"Our Presidents defined our nations' relations as strategic, and our capitals show the same attitude," Luzhkov said.
He pointed out that solid foundations for developing bilateral relations have recently been laid.
The Moscow Mayor believes that the two capitals have great potential for developing trade, economic and cultural cooperation.
Beglaryan pointed out that Yerevan gives priority to Moscow in its international cooperation.
According to him, mutual confidence is the basis of cooperation between the Armenian and Russian capitals.
"Our present task is to retain our previous achievements and implement new projects," Beglaryan said.
/News.am/