All the 35 participants of seminar held under the UN aegis in Tskhneti settlement near Tbilisi have shown swine flu symptoms.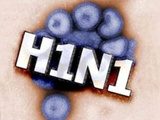 All the infected were delivered to hospitals of Tbilisi with fever.
One remains in a clinic, all the rest are being treated at home.
Swine flu has already claimed 26 lives in Georgia.
According to the data of epidemiologists, 1,251 case has been confirmed in laboratories.
Epidemiologists say the first wave is left behind, as the morbidity rate dropped to minimal, but the second, relatively weaker wave is expected in the second half of February.
/Georgia Times/