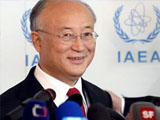 The UN nuclear watchdog chief said Friday dialogue between Iran and the sides seeking to sell nuclear fuel to the country are still underway, as Iran advised the six major powers to use the opportunity to build trust.
"The proposal is on the table. Dialogue is continuing," said the Director-General of the International Atomic Energy Agency (IAEA), Yukiya Amano, in Davos in his first public remarks after succeeding Mohamed ElBaradei two months ago.
Under a UN-brokered proposal, the US, France and Russia want Iran to send most of its domestically-produced low enriched uranium (LEU) abroad to be converted into more refined fuel for the Tehran research reactor.
Tehran welcomed the gist of the proposal, but asked for guarantees that the fuel would be delivered in a timely manner.
The West's refusal to do so prompted Iran to devise its own proposal under which the country wants to exchange some of its LEU with the fuel under UN supervision on Iranian soil.
Amano, who urged Iran to restore international confidence in its work, expressed hope that a deal would soon be reached between the sides.
"I hope agreement will be reached and I continue to work as intermediary. This will ... help increase confidence in the [Iran] nuclear issue," said the IAEA chief.
/Press TV/