A senior Iranian cleric and official on Friday warned that inaction about the rioters who gave raise to the unrest that followed the June presidential election would have severe consequences for the country.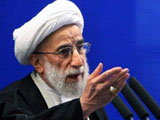 Tehran's Interim Friday Prayers Leader Ayatollah Ahmad Jannati, who heads the Guardian Council, urged Judiciary Chief Ayatollah Sadeq Amoli Larijani to firmly deal with "rioters of the recent unrest and in particular the Ashura desecrators."
"The same way you quickly executed the two Moharebs (those who have waged war on God), stand your ground and take action about the rest of them (rioters)," the Islamic Republic News Agency quoted Ayatollah Jannati as telling Ayatollah Larijani.
"If rioters are not dealt with firmly and strongly," the cleric said, "the situation will become more serious in the future."
The anti-government protests on December 27 coincided with Ashura mourning ceremonies, when protesters damaged public property, set fire to trashcans, and clashed with security forces who attempted to restore order.
Judiciary officials said Thursday they were studying the appeals of nine rioters who have been handed the death penalty over their involvement in plots against the Islamic Republic following the June presidential election.
The nine will be executed if the Court of Appeal upholds the sentences.
They have been found guilty of the charges of being a Mohareb, attempting to topple the Islamic establishment, and their membership in the terrorist group Mujahedeen Khalq Organization (MKO).
/Press TV/