Turkey targets to increase exports in 2010 to more than 110 billion USD, country's top foreign trade official said Friday.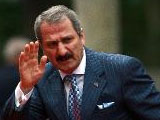 "We have achieved to retain our exports above 100 billion USD [in 2009] despite the worst global recession, and we will do much better in 2010 to exceed 110 billion USD," said Zafer Caglayan, Turkish minister for foreign trade.
According to the country's statistics authority TUIK, Turkey's exports in 2009 was 102.1 billion USD, which marked a 22.6 percent drop over 2008, however 3.7 percent more than an expected 98.5 billion USD.
In 2008, Turkish companies had made exports worth 132.27 billion USD.
Caglayan said a relative hike in export figures last December, which came above 10 billion USD, had hinted that Turkey's economy was on a recovery track.
The Turkish minister said the drop in Turkey's exports in 2010 was mainly the result of a shrinkage in demand in European Union countries, which constitute the biggest trade partner for Turkey with a 46 percent share from the country's exports.
Turkey's imports dropped in 2009, TUIK figures showed. Imports were down 30.3 percent, over 2008, to 140.7 billion USD.
/World Bulletin/