The Turkish Airlines (THY) has signed an agreement with Spain-based Spanair.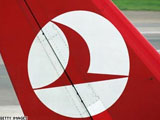 The THY said Friday, "a Free Sale Code Share Agreement has been signed between THY and Spanair (JK). Code share operations will begin as of February 1, 2010. Within the framework of TK/JK code share agreement, both TK and JK will be the operating carrier and will put their own codes to each others' flights."
The THY, earlier signed similar agreements with the Air China, the Air India, the Croatia Airlines, the Egypt Air, the LOT Polish, the Lufthansa, the Pakistan Int'l Airlines, the Royal Air Maroc, the SunExpress, the TAP Portugal, the Austrian Airlines, the United Airlines, the Asiana Airlines, the Syrian Arab Airlines, the ANA All Nippon, the Air Malta, the Singapore Airlines, the Malaysia Airlines B&H Airlines, the Etihad Airlines and the Ethiopian Airlines.
/World Bulletin/