Iran's Deputy Foreign Minister for Iranians in the Diaspora and Consulate Affairs, Hasan Gashgavi, will pay a visit to Azerbaijan, Abbas Iskenderi, spokesman to the Iranian Embassy in Azerbaijan, said.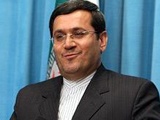 According to him, Gashgavi will attend the opening ceremony of the embassy's second building in Baku Feb.1, marking the beginning of Iran's festivities dedicated to the 31th anniversary since the Iranian Islamic revolution.
Iranian Ambassador to Azerbaijan Mohammad Bagher Bahrami also will attend the event.
Iran decided to adopt a visa-free regime with Azerbaijan from Feb.1.
/
Trend News
/