The U.S. hails Tbilisi's strategy in regard to Abkhazia and South Ossetia, endorsed by the Georgian government on Wednesday, the message of the U.S. embassy to Georgia says.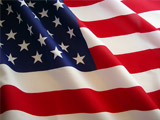 The embassy calls the strategy a constructive step in direction of easing tension and implies participation of all population of Abkhazia and South Ossetia.
The U.S. side highlighted Georgia's decision to reach full "de-occupation" of the two regions and re-integrate the territories and their population into constitutional space of Georgia in peaceful and diplomatic way.
/Georgia Times/