Turkish exports fell 22.6 percent in 2009, Turkish statistics authority said on Friday.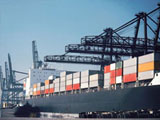 According to figures released by Turkish Statistical Institute, or TUIK, exports fell to 102.1 billion USD, 22.6 percent lower than 2008.
In 2008, Turkish companies had made exports worth 132.27 billion USD.
Turkey's imports also dropped in 2009, TUIK figures showed. Imports were down 30.3 percent, compared to 2008, to 140.7 billion USD.
Turkey's imports had amounted to 201.96 billion USD in 2008.
According to figures, Turkey's foreign trade deficit fell 44.8 percent to 38.6 billion USD in 2009.
Exports were also significantly up in December 2009. Figures marked 30.3 percent rise in exports over the same month of 2008. Exports reached 10.06 billion USD in December 2009 from 7.7 billion USD a year earlier.
/World Bulletin/