The Head of Iran Presidential Office had expressed country's willingness to expand ties with Belarus.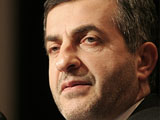 During his meeting with Esfandiar Rahim Mashaie, President of Belarus Alexander Lukashenko said that Belarus and Iran do not exploit their huge cooperation potential fully; Trend news reported.
"The cooperation potential of our countries is enormous, but it is almost untapped. I am convinced that today's meetings will help us finally settle the most challenging issues in the economy, trade and economic cooperation," the head of state said.
Iran is Belarus' traditional trading partner.
In January-November 2009, the bilateral trade made up $65.2 million.
The Belarusian head of state pointed out to the similar stance of Belarus and Iran towards the topical issues of international agenda.
"The special thing about your visit is that it is well-timed. I think that we will be able to discuss all the issues without diplomatic embellishments," Alexander Lukashenko said as he addressed the Iranian guest.
/ILNA/