The international community's sanctions against Iran demonstrate its effectiveness, said Michael Ratney, the spokesman for the Bureau of Near Eastern Affairs of the U.S. State Department.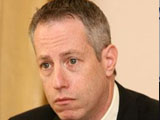 "The international community, both through U.N. Security Council resolutions and other measures, has imposed a variety of sanctions on Iran for its failure to meet international obligations," he said in an interview with Trend News.
According to Ratney, as a result of these efforts, the cost of doing business with Iran has increased dramatically.
"For example, Iran's credit risk rating has gone up, and many banks have stopped issuing letters of credit to companies seeking to do business with Iran.  Numerous large international banks have responded to growing concerns about Iran by ceasing or significantly reducing their business with Iran," he added.
Ratney said consistent with the U.N. Security Council's call on member states, the EU has also adopted measures to limit granting export credits.
"As a result, a number of European countries have worked successfully to reduce their export credit exposure to Iran," he said.
Iran has nonetheless failed to modify its policies and meet its IAEA and UNSC obligations, he believes.
"We continue to seek a negotiated solution, but Iran must recognize that there are consequences to its continued refusal to accept its international obligations," Ratney said.
/
Trend News
/