Pakistan and Iran have agreed to expedite the process of importing 1000 MW power by Pakistan from Iran on fast track basis for its early completion, officials said on Thursday.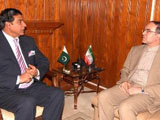 The agreement came in a meeting between Iranian Ambassador Masha'Allah Shakeri and Pakistan Minister for Water and Power, Raja Pervez Ashraf who also discussed matters of mutual interest, bilateral relations to further boost economic ties between the two countries, the Ministry of Water and Power said.
The current status of transmission line for import of 100 MW power for Gawadar from Iran was also discussed, a statement from the ministry said.
The Minister informed that a Pakistani delegation is leaving for Iran tonight to discuss matters relating to import of power from Iran within the shortest possible time frame. Both the Minister and the ambassador also discussed the current status of the gas pipeline project, construction of transmission line for import of 100 MW for Gawadar in Balochistan and 1000 MW for national grid and appreciated each other's cooperation in this regard.
Earlier, the Minister, while welcoming the Iranian envoy, said that Pakistan had close brotherly relations with Iran. "Pakistan values the help and support of Iran and is desirous of expanding bilateral relations in all sectors".
The Minister also assured his full support and assistance to facilitate Iranian investors to invest in water and power sectors in Pakistan.
He also expressed that this meeting would further strengthen and enhance economic relations between the two countries.
/IRNA/