Upon an invitation by Yerevan city mayor Gagik Beglaryan, Moscow mayor Yuri Luzhkov will pay a working visit to the Armenian capital today.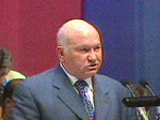 Cooperation between Moscow and Yerevan in programs set to take place from 2008–2011, as well as issues of bilateral interest will be discussed during the visit, according to a press release issued by the information and public affairs department in Yerevan City Hall.
Also planned to take place during the visit is the signing of an agreement called "Cooperation between Moscow's government and Yerevan City Hall in trade-economic, scientific engineering humanitarian sectors."
Luzkhkov will also pay a visit to Moscow House, where an event dedicated to Anton Chekhov's 150th anniversary will take place.
/Tert.am/