At the 10th round of Geneva Talks on security in Caucasus, Georgia presented South Ossetia no data on missing Ossetians.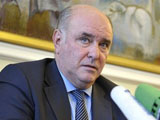 It complicates the process of consultations, said Grigoriy Karasin, head of Russian delegation.
According to Karasin, demands of South Ossetian delegates are getting sharper and acuter, they insist on information to be provided.
Moreover, Tskhinvali believes without it work of mechanism on joint incident prevention and response is impossible.
"It's a really alarming symptom," the diplomat said.
At the discussions Karasin mentioned that the Georgian delegation refuses to discuss possibility of signing a legally binding non-aggression treaty.
"The Georgian side tries to expand the agenda artificially, adding the question about some forms of international presence in the region to replace Russian military; it's getting outside agenda and is a rather rough distortion of Geneva Talks' aim," Karasin said.
The diplomat pointed out that due to Russian presence there were no victims at Georgian-Abkhazian and Georgian-Ossetian borders over latest 9 months.
Commenting on Boris Chochiyev's statement claiming that 10th round is possibly the last, he said: "I wouldn't make such grim predictions. These discussions were difficult from the very beginning. We had cases when we had to leave the hall of sittings."
/Georgia Times/