The US Senate has approved a bill that would allow President Barack Obama to impose new sanctions on Iran over its nuclear energy program.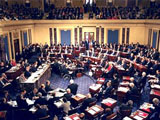 The sanctions, approved on a voice vote on Thursday, will deny loans and other assistance to US firms that export gasoline to Iran or help expand the country's oil-refining capacity.
The US House of Representatives has already passed similar legislation. Differences between the two bills will have to be worked out before the measure can be signed into law by the president.
The Senate's new legislation will impose a broad ban on direct imports from Iran to the United States and exports from the United States to Iran, except for food and medicine.
It will also require the Obama administration to freeze the assets of some Iranians, including officials with Iran's Revolutionary Guard Corps.
Tehran says as a signatory to the Nuclear Non-Proliferation Treaty it is entitled to the peaceful application of nuclear energy.
/Press TV/