China has called for efforts to solve Iran's nuclear issue through diplomacy, while the US campaigns to pressure other world powers into imposing a new round of sanctions against Iran.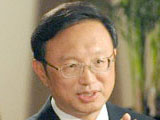 "Iran's nuclear issue should be resolved through diplomatic efforts and negotiations," China's Foreign Minister Yang Jiechi told reporters in London, where he took part in an international conference on Afghanistan.
"We believe we should focus on resuming dialogue and restarting negotiations," Reuters quoted Yang as saying on Thursday after a meeting with US Secretary of State Hillary Clinton.
Clinton has been working hard on the sidelines of the Afghanistan Conference to garner support for new sanctions against Iran.
The US secretary of states had earlier stated that Washington will put more pressure on Tehran over its nuclear program.
"Iran's approach leaves us with little choice but to work with our partners to apply greater pressure in the hopes that it will cause Iran to reconsider its rejection of diplomatic efforts with respect to its nuclear ambitions," Clinton had said.
/Press TV/