Top Israeli diplomat in Turkey said that relations between Turkey and Israel are based on solid basis and that he sees "better ties" in the future.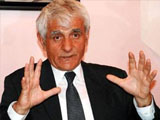 Israeli Ambassador to Turkey Gabby Levy said relations have been going through a tough period recently. However, he expressed belief that the two countries would overcome troubles.
Ties strained after Israeli Deputy Foreign Minister Danny Ayalon's ill-treatment of Turkish Ambassador in Tel Aviv Oguz Celikkol. Ayalon, who summoned Celikkol to express Israel's uneasiness over a Turkish TV-series showing Israeli agents kidnapping a child, had Celikkol sit at a lower armchair in front of a table with only the Israeli flag on it, denying him an handshake in front of the press.
Ayalon's snub violating all diplomatic manners drew strong reaction from Turkish officials.
Levy said misunderstandings and disagreements might arise even between two best friends.
He said, "we have had a common history over the past 500 years. Jewish people have never forgotten how they were welcomed in this country."
"We have good relations in defense and military. I believe we will overcome this tough period soon," Levy said.
/World Bulletin/