Turkish Foreign Minister Ahmet Davutoglu met Thursday with UN Secretary General Ban Ki-moon on the sidelines of a London conference on Afghanistan.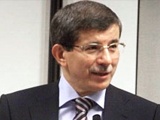 Diplomatic sources close to the meeting said Davutoglu and Ban had discussed the Cyprus issue and the progress made in ongoing peace talks between the leaders of the island's Turkish and Greek Cypriot communities.
Sources said Ban had vowed to make any kind of contribution to the talks between Mehmet Ali Talat and Demetris Christofias who have recently intensified their negotiations to reunify the divided island.
The Turkish foreign minister also held a separate meeting with his Indian counterpart S.M. Krishna.
Sources said the two ministers had taken up details over a prospective visit by Turkey's president to India.
/World Bulletin/