Iran said Thursday it was studying the appeals of nine people who have been handed the death penalty over their involvements in plots against the Islamic Republic following the June presidential election.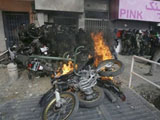 The nine, who were rounded up following the unrest that erupted after the election, will be executed if the Court of Appeal upholds the sentences.
They have been found guilty of the charges of being a Mohareb — an enemy of God — attempting to topple the Islamic establishment as well as their membership in the terrorist group Mojahedi Khalq Organization (MKO.)
The MKO is responsible for numerous acts of terror and violence against Iranian civilians and government officials.
/Press TV/