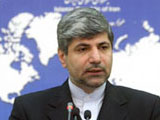 At the Islamabad meeting, the Foreign Ministries of Iran, Afghanistan and Pakistan agreed to hold a summit with participation of Iranian, Afghan and Pakistani presidents in Islamabad, Iranian Foreign Ministry Spokesman Ramin Mehmanparast was quoted as saying by the Iribnews.
The ministers also decided to organize a meeting of the three countries' interior ministries in Islamabad, meeting of economy ministers- in Kabul and meeting of security ministers-in Tehran, he said at today's news conference.
Jan.16, Islamabad hosted the tripartite meeting of foreign ministers of Iran, Pakistan and Afghanistan.
/
Trend News
/