No matter who wins in Ukraine's second round of presidential elections, Kiev will remain Georgia's "ally and a friend," President Saakashvili said on Jan. 18.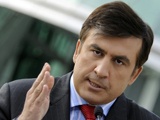 "There have been totally unacceptable remarks by some [Ukrainian] politicians previously in respect of supporting the Russian occupation, but absolute majority of Ukrainians and of Ukrainian politicians are Georgia's friends regardless of which presidential candidates' camps they represent," he told journalists in Georgia's ski resort of Bakuriani.
"Ukraine has been established as a democracy in recent five years; under the democracy any government takes into consideration opinion of the people and people in Ukraine love Georgia and Georgian people, like the Georgian people love Ukraine and its people."
"Whatever happens in the second round of these elections I am sure these relations will not be changed," he said.
Saakashvili also said he was sure Ukraine's "European course is irreversible."
"I am sure that Georgia and Ukraine will together continue our path towards Europe," Saakashvili added.
"And although some want to restore the Soviet Union – those who really meddle from outside into the Ukrainian elections – it will be impossible to restore the Soviet Union. Ukraine continues the European path.  We also continue the European path," he added.
Saakashvili also said that in recent years Georgia managed to progress more than Ukraine and attributed this claim to a failure of Ukraine to establish "a strong centralized authority and single, joint course."
"Actually the governmental team was split in Ukraine and one can not blame anyone separately for that," he said.
/Georgian Times/