The number of Turkish rescue teams in Haiti rose to four by Tuesday.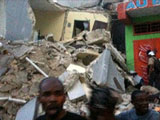 A six-member team with the Search and Rescue Association, or AKUT, and a five-member team with the "Isn't Anybody there" (Kimse Yok Mu) aid association joined the Turkish GEA search-and-rescue team, who pulled out five people alive from the debris of a shopping mall in Port-au-Prince days after the massive quake occurred.
A military cargo plane, carrying the first part of the Turkish Red Crescent's relief material and staff landed at in Port-au-Prince on Monday evening.
AKUT members, who arrived in the capital city on Monday, started their search and rescue efforts after erecting their tents in the United Nations zone.
The "Isn't Anybody there" relief team comprises doctors, rescue members and three volunteers.
Ferruh Yücel, team leader of the association, said their primary target was to establish a public soup-kitchen, while the Red Crescent team aims to establish a field hospital in Haiti.
Thirteen of the 52 Turkish police officers deployed at the United Nations Stabilization Mission in Haiti, or MINUSTAH, will return to Turkey earlier than the end of their mission term on Jan. 31.
The police officers, together with five spouses and six children, will return to Turkey soon as acts of violence are spreading in the capital Port-au-Prince, following a magnitude-7 earthquake that devastated the country.
Officials said Tuesday that the 13 officers' terms would end prematurely because security could not be provided in Haiti. A decision about the remaining 39 police officers would be made at a later point, noted the officials, adding that, new police officers would be assigned to Haiti.
/Huriyyet Daily News/