Armenian-captured Azerbaijani citizen Eldar Tagiyev's family believes that he was interviewed by Armenian Public Television under pressure.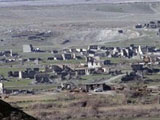 His son Elmar Tagiyev said that their social condition is not hard.
"My father told Armenian television as if he was jobless in Azerbaijan, lived in poor condition and faced with water problem to keep a farm. But he never worked in agriculture and we had not water problems because we are living in the bank of river".
Tagiyev said that his father couldn't think not to return to Azerbaijan.
"He had secondary education. He couldn't use such words. We think my father was under pressure when he said that didn't want to return home and planned to go to the third country".
Tagiyev was taken hostage by Armenian armed forces when he was faced shots after the Armenian side violated the ceasefire on Dec. 28, 2009 near the contact line in direction of Alibeyli village of Tovuz region.
Tagiyev was interviewed by the Armenian Public Television. News Armenia agency reports that Tagiyev said he didn't intend to return to Azerbaijan and would like to move to third country if Armenian government wouldn't allow him to be there.
He said he would like to let his family to know his plans.
Tagiyev said he was unemployed and lived in poor conditions and couldn't keep a farm because of water problem.
/
APA
/